Explore exciting career opportunities at The Baby Fold and Hammitt School here.
Receive Unique Perks and Generous Benefits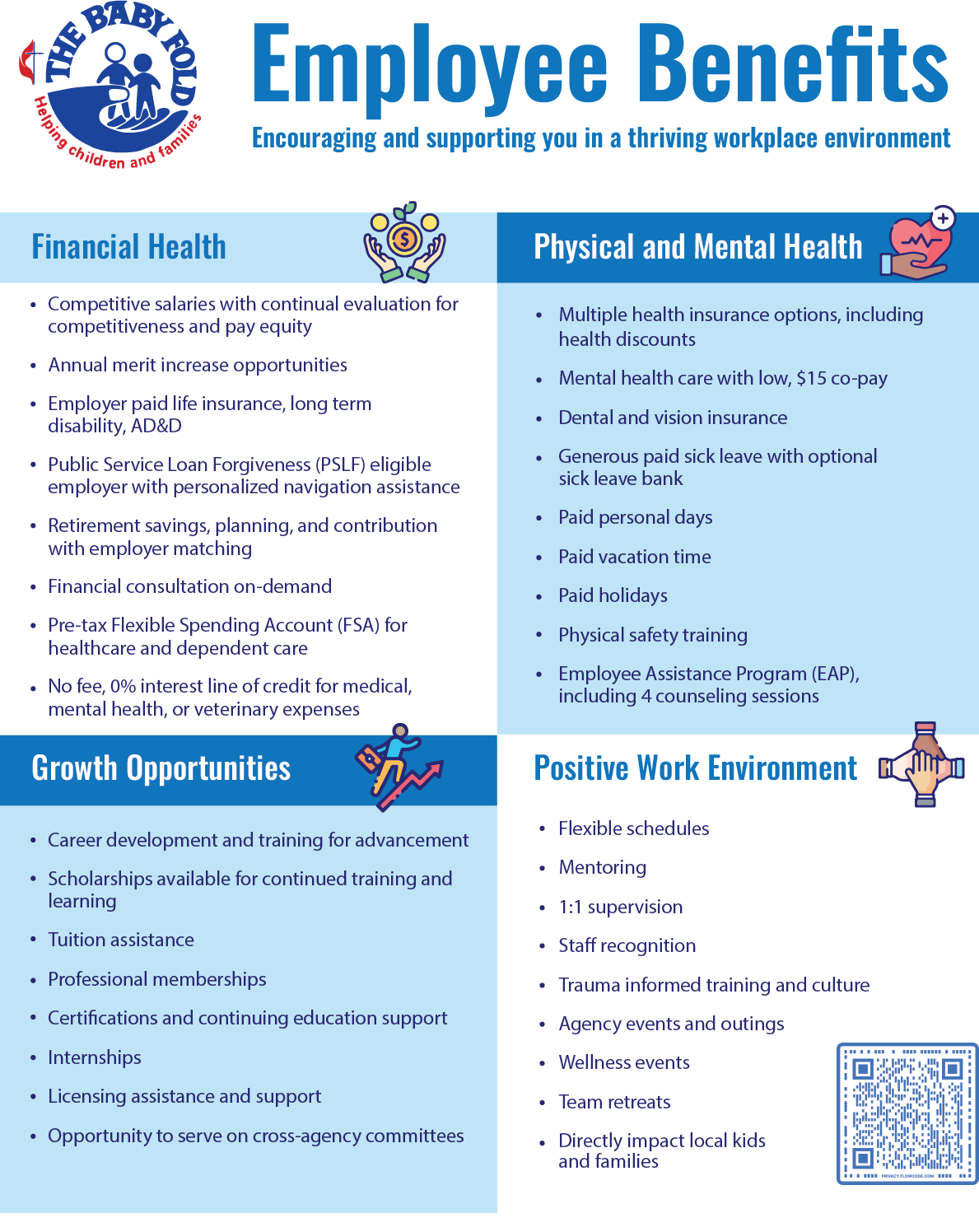 We take good care of our employees so they can take care of our community. Benefits include:
Health Insurance (choice of 3 medical plans)
Dental & Vision Insurance
Retirement plan (403(b)/ROTH) with employer match
No cost Life Insurance & Long-Term Disability Insurance
Flexible Spending Plan and Dependent Care Plan
Paid Vacation, Personal time, Sick time, and Paid Holidays
Tuition Reimbursement
Employee Assistance Program
NEW - $1,500 Line of Credit for medical, mental health, & vet services (NO interest and NO credit check)
NEW - Personalized assistance with the Public Service Loan Forgiveness Program
Year-round salary for all school staff (paid breaks)
Discounted Fitness Memberships
Advancement opportunities
Mentorship and professional development opportunities
Candidates should expect to receive competitive pay with annual merit increases, abundant training, professional development opportunities, tuition reimbursement for continuing education, and promotional opportunities. In addition, our employees receive generous vacation time, personal time, and sick time packages, plus 11 paid agency holidays per year. Hybrid work options are available with many positions.
Our staff also have outstanding medical benefits, dental insurance, vision insurance, and life insurance paid by The Baby Fold. In addition, we have two retirement plans with matching funds contributed by The Baby Fold that include two personal consultations each year from our financial advisor to help you secure your future.
Employees at Hammitt School enjoy the expertise and camaraderie created by a 100% special-education-focused school. Small classrooms with under ten students each and a team approach to educating and supporting students created a positive environment where students can thrive. Onsite nurses, speech therapists, and a clinical director contribute to the supportive environment our staff enjoys.
The Baby Fold values a genuinely diverse workforce and a culture of inclusivity and belonging. To learn more about our values of diversity, equity, and inclusion, click here.

Testimonials
"Hammitt School does transformational work with children that the public schools can't reach.
It's a special place filled with special people. Best decision I ever made to be a part of this!"
"I've learned so much from the experts on staff. This place is amazing, I'm so glad to be a part of this agency."
"It's so rewarding to work for The Baby Fold. You are truly helping people every day."
Moving to Bloomington-Normal? Learn more about our community: https://www.visitbn.org/
Contact Human Resources
The Baby Fold
108 E. Willow St., Normal, IL 61761
Phone: (309) 454-1770
Fax: (309) 451-7289
Email: This email address is being protected from spambots. You need JavaScript enabled to view it.